CHATOS PRODUCTS – EXTRA EARNING OPPORTUNITIES
03.11.2020 17:02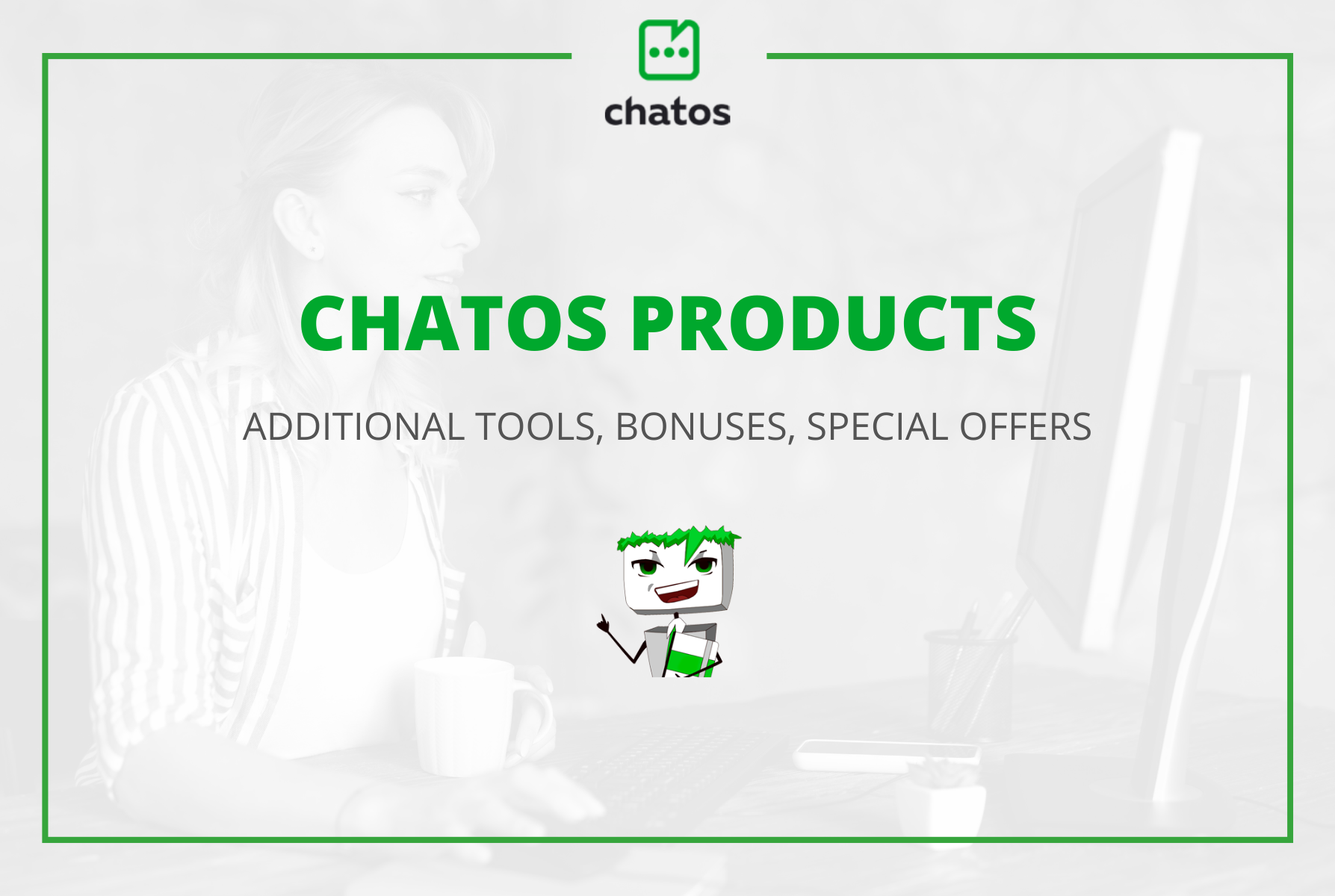 Dear Friends!
We are glad to share with you the news that we have come up with a way to delight and reward our Partners who are loyal ChatOS users and provide usefulness according to your individual needs and desires.
The more actively or longer you use the ChatOS system, the more profitable and pleasant the offers for you on using the ChatOS functionality will be.
Very soon for you are interesting offers. We will start to implement them in our new functionality "ChatOS-PRODUCTS"
---
WHAT CHATOS PRODUCTS ARE
Now, in addition to the basic set of tools in the extension, you will be able to use additional tools.
The user determines whether he wants to connect this service or not.
So, for example, you can purchase an automatic translator, or connect some men audience, or protection of re-sending photos to men … if necessary
Each user will be able to choose a convenient work format for himself: either work with the basic version of the extension without any additional tools, or connect up-to-date products as needed.
---
FOR WHAT SITES PRODUCTS
Products are created with the needs and capabilities of each site.
Products can be connected both for a specific profile and for all ladies in a personal account.
You will definitely not miss out on special offers. We will show them in extensions and in personal accounts.
There is already a campaign to connect an auto-translator for new ChatOS user profiles on the Svadba website (your translators can already see them in the extension)
For all ChatOS users on Svadba – until December 15, 2020, there will be an opportunity to activate the paid auto-translator service on Svadba. (As you probably remember, earlier in the article we reported the reasons of the paid translation service)
Also, the auto-translation service will be activated for other sites.
New products will be added soon. The closest ones are new categories and protection from sending identical photos to men in chats and letters.
---
WHAT IS THE PRICE OF PRODUCTS
The price of any additional product is pleasant.
For example, using an auto-translator in extension is $ 0.02 / day of launch of the extension; And if you accept special offer, it will be even more pleasant
So, with a very small investment, you can increase your results,
▫️ make longer your chats with quality communication;
▫️ get more chats, sending and inviting the right men to the chat;
▫️ protect yourself from possible fines and sanctions of sites.
---
PROMOTIONS AND BONUSES
Do not miss.
We will be happy to give you usefulness and offer discounts.
ChatOS launches a bonus system for its users.
And the longer and more regularly you use the ChatOS system, the more favorable the terms of using additional products for you.
So, follow the promotions for your ladies and personal accounts and activate.
---
HOW TO THE OPERATOR (TRANSLATOR) CAN ACCEPT SPECIAL OFFERS
We know that our users operate on two models:
1. When a translator (operator) has his own ChatOS account only for his profiles
2. When the ChatOS personal account is common for all ladies and agency employees, and translators (operators) do not have access to personal accounts
For both of these cases, you can easily activate any promotions and offers.
With the first way, the translator (operator) will be able to enter his personal account and activate the product
In the second case, the translator (operator) sends a unique link to the administrator, and manager vi link easily activates the product to the lady.
So, share the news about "ChatOS-products" with all your employees so that they do not miss the new features and promotions of ChatOS.
---
VALIDITY OF ACCEPTED PRICES AND BONUSES
If you accept and activate a profitable offer for using the product at a pleasant price, then it remains with you always when using ChatOS.
You can only improve the conditions by connecting an even more advantageous offer on occasion.
A lady or personal account can lose its bonuses-preferences for the product in case of refusal to use a previously purchased product or non-use of the ChatOS system for 45 consecutive days.
But this case is not about our friendship with you, right?
---
ANY QUESTIONS
We will be happy to answer them and help you with the activation of bonuses and additional products.
Write to the technical support specialists in the online chat on the website or Telegram @chatos_chatos
Keep in touch!
We are preparing the best opportunities for you!
Sincerely, your ChatOS
Any questions?
Ask our specialists