HOW TO INSTALL THE SENDING PROGRAM
02.09.2020 14:45
Way how to download and launch the chat extension in your browser
1. ChatOS extensions work in Google Chrome, Yandex, Opera browsers ("extension" or "bot" is the way we name sending programs).
Download an extension from the store into your browser:

Confirm your desire to install the extension to your browser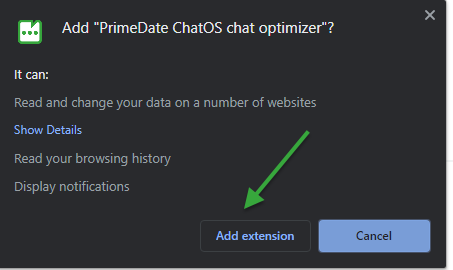 after successful installation you will see such a notification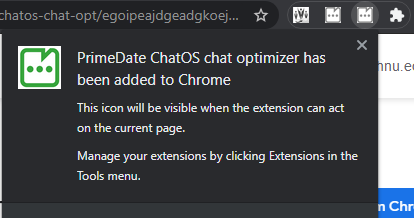 2. Log in to the dating site as a lady. To use the chat extension go to the chat page (It's important, because the extension for chats works only on the chat page) And you can use the extension for mails being on any page of the dating site. If you had a needed page open when you installed the extension, refresh this page
3. In the upper right corner of the browser, click on the active ChatOS icon (green logo) – the extension will start, you can set up sending.

4. If you have not found the ChatOS icon in your Chrome browser, click on the puzzle icon,

find the ChatOS extension in the list, click on the "pin" mark

and now the active icon for launching the extension will always be visible in your browser. Click on it and the extension is launched for sending.
You can easily distinguish between extensions for chats and mails in your browser – the extension for mails has a yellow envelope mark.

Enjoy your search and a lot of communication with ChatOS!
Any questions?
Ask our specialists