Global Blacklist. How to add a man?
13.03.2020 11:31
In the Blacklist section ChatOS extensions save and display unwanted for communication men with your comments
And, as you correctly noted, there is an opportunity to add a man ONLY to the Personal Blacklist in the extension (this list is for specific lady).
And why is it not possible to add a man to the Global BlackList in the extension?
There is an answer.
Global Blacklist is formed for all ladies of the agency within the Personal Account.
And in order:
– that this list is formed and remained of high quality and relevant,
– to prevent accidental or purposeful situations when men who should be on the list were removed,
– absolutely promising and decent men are added to the Global Blacklist and, accordingly, were prevented from receiving invitations to chats
So, for the above, the ability to add, edit and delete men from the Global Blacklist of the Agency is open to the managers of the Personal Account and Administrators who have access to the Personal Account.
Accordingly, to add a man to the Global Blacklist, the lady or her translator needs to give information about him to the administrator, and the administrator or manager should add this man to the Global Blacklist in the Personal Account, following a few simple steps.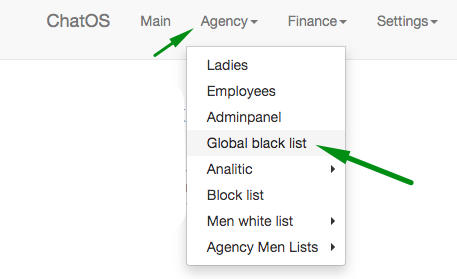 So, your base of undesirable men will always be high quality, and all ladies of your agency are protected from trouble. 😉
Pleasant communication to you
Any questions?
Ask our specialists