The way to kill a lady's profile on a dating site. Never do that!
07.10.2020 19:49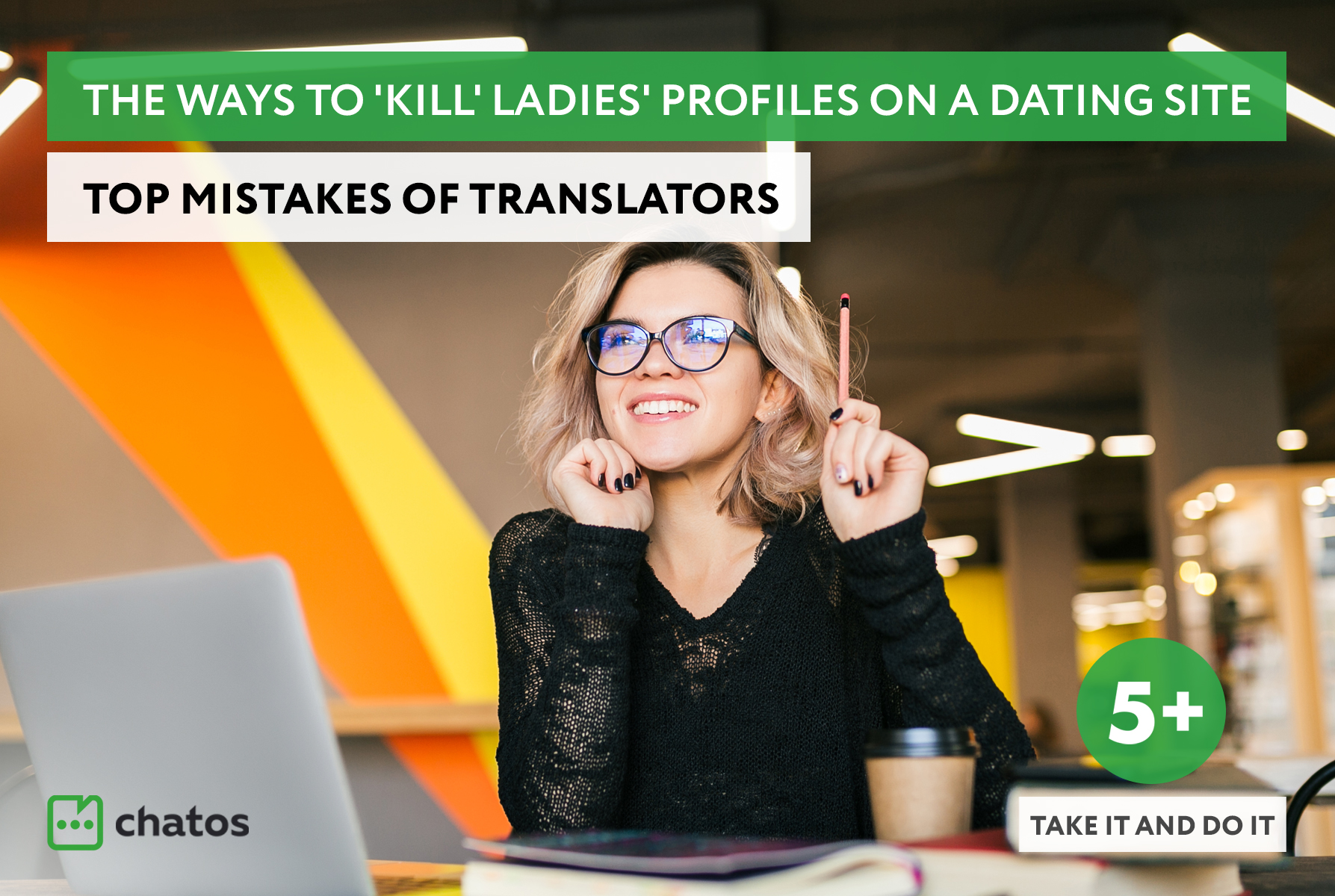 What should be done when there is no response on a dating site, but the lady or translator is working actively.
A good profile on the site, long online time, the right time on the site was chosen, a commendable number of invitations and letters sent, once there were chats on this profile, but now … there are no answers.
WHAT'S WRONG? The lady's profile is killed!
Catch the real case of 5 mistakes. There are ways a translator kills a profile.
Such a Translator mainly works only with VIPs or other premium categories of men on the site, but making mistakes
TRANSLATOR'S MISTAKES:
1. One chat translator.
The translator does not convert the first chat into a permanent chatting. There is no deep work with the fan and the "what to do after the first chat" actions scheme.
Very rarely, men initiate communication first. On the site, active attention from other ladies does not allow men to get bored.
Men are dismantled by those translators who initiate chatting.
2. Uninteresting chat.
Premium men have seen a lot of communication on the dating site in their on-line time. And they will not come to an uninteresting chat a second time, even to a super beautiful profile.
Only the first chat start impulsively, when a man looks at a beautiful avatar and profile photos. All subsequent chats and letters are merits of the translator.
It means if there was no fire in the chat, the VIP man was lost.
3. "Horrible" invitations.
Without unnecessary criticism of invitations and letters, it should be noted that often VIPs are sent invitations which have no chance to get reply at all.
Men who communicate a lot and who have already spent a lot of time and money on the site do not respond to trivialities. They need to be impressed.
4. Bad opinion
"Having broken the opinion about the lady," the translator continues message sending to VIP men regularly.
And they won't a answer. Disappointed men will not pay attention to the lady.
In fact, they add such a lady in their IGNOR LISTS.
5. I want more
Complaining that "I am doing everything for effective work, but there is no result or money," they ask for more and more profiles from the agency management… But, working according to the usual scheme which is described above, they kill new lady's profile as well.
---
WHAT TO DO TO NOTICE WRONG THING ON TIME AND DO NOT KILL THE LADY
---
In the absence of a result, the agency's management with the translator should conduct such an investigation.
– Determine the duration of chats. This indicator will tell you about the quality of communication and the ability to lead dialogues. Bad conversations end quickly.
---
– Analyze how many of the first chats became the second and so on… If the majority of chats are mono-chats, it's bad and you urgently need to implement step-by-step instructions on what to do with a man after the first chat.
---
– View the history of sent invitations and letters. What's in the texts? Also you can go to the site under the man and read the flow of invitations from other ladies.
Make a comparative analysis, understand what is good and what is bad. Throw out bad texts from your set and learn the way to impress a man with words.
---
– Do not waste time with "try again on another profile" tactic.
Every success or failure has a reason.
Identify them in time, correct what is wrong.
---
– After restart of the translator (training or replacement), correction of errors, you should have to make one life hack if you realize that the profile has died.
Completely replace all photos in a lady's profile with new ones, create a new description.
After updating your profile, go online again and start working.
All men, even once disappointed in the lady, will see a 'new girl'. So with the correct submission of the profile and the filigree work of the translator, you will be able not only to revive the profile on the site, but also to make the lady a TOP profile in your agency.
BY THE WAY All the necessary data for analyzing the work of the profile described in the article is available to ChatOS Partners.
---
Start putting these tips into practice and get income of your dream with ChatOS extensions.
Download extensions for chats [click] and for mails [click] for dating sites you need.
Enjoy your communication with ChatOS!
Any questions?
Ask our specialists