What is usual way couples are put together.
19.02.2019 12:00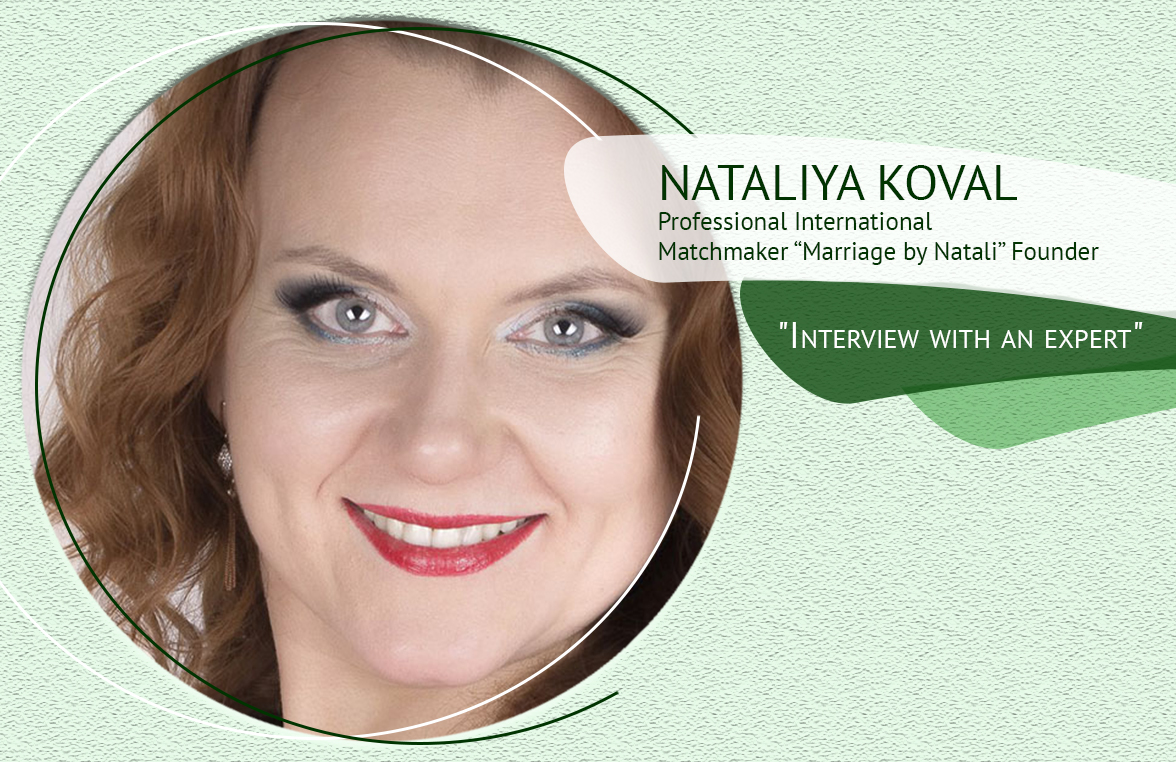 Our expert is Nataliya Koval. She is a professional International Matchmaker, founder and owner of the international matchmaking agency Marriage By Natali
What is usual way couples are put together.
Starting with a personal consultation, my goal is to build a trusting relationship with the client and convince him to come to Ukraine in the near future. Because, no matter how much you write letters this works only for 5% of people and only when the "invisible" professional psychologists-translators help. Therefore, the main task is a man coming to Kiev and meeting ladies personally.


Next, the male client chooses the 10 most interesting lady profiles.My assistants confirm the lady consent to a meeting with a man. Then he comes, and we organize meetings with ladies. Personally I talk to him after meetings and carefully monitor his progress in communication. I noticed that clients disclose their true personality not when they tell how good they are, but when they meet ladies.And I look, whether he gets a contact, whether he can to appoint the next meeting at least with several ladies, etc. If so then awesome. And if he meets, but does not start a relationship, then you need to pick up another brides psychotype and change the meetings strategy. I focus on the client result, and not on organizing a large number of meetings with the brides.


Before their arrival in Kiev, I tell men about possible relations scenarios. For example:
– "You will come, you will have 7-10 meetings, then you will choose 2-3 ladies, you will dating with them, then you will choose one, fall in love, dating, then you will go on a romantic trip, give her a ring, then come, begin to issue a visa for the bride, take her to your country, get acquainted with her parents and get married. During the year everything will jump in its own place".
This is my favorite scenario.


One more scenario: you will come, meet different ladies and make friends with some of them. Then you will come again, meet them again and you will be able to understand who is your couple. For a couple of months you will communicate with them and you will be able figure out who is closer to you by yourself.


Usually, when a man tries to choose between two ladies then one of them is like him, and the other is an antipode. Why it happens? When we live in a family, we see two patterns of behavior: father's and mother's. This is written in a very serious work: a book "Why We Pick the Mates We Do: A Step-by-step Program To Select a Better Partner or Improve the Relationship You're Already In» This book is the best I've ever learned that explains why people choose each other. It turns out that when the first child is born, he is like the parent of the opposite sex. The boy acts like his mother and the girl acts like father. Although the boy knows what is like to act like his father and the girl knows what is like to act like her mother. If there are a second boy in the family then he can make his choice of behavior model he will follow (optional), and a girl will be like her mother.


When we build relationship, we are looking for a partner the same as mom or dad.And then, if the partner is like dad, we behave with him, like mom and vice versa. If both are like dad they are fighting, if both are like mother then there is lack energy))Of course, this is not so easy as I explain it now. But who understands this principle it simplifies their work.


There are many theories and divisions by types of personality. But no matter how we proof, in theory, that a lady is a good couple to a man, he will not ask her for a second date if he feels nothing to her and she does not fall into his "love card" laid by his parents. They will meet and that's it. The worst scenario of coming to Kiev: the man came, met the ladies but there was not a mutual attraction with any of them. The reasons can be different. Our service package includes 3 visits. Therefore, we plan him the next visit, after working on errors. For 20% of men, unsuccessful meetings are the best training to land their brides expectations and look at relationships differently.


Sometimes I tell a man:
– «This is not what you think it must be or you plan it, this is the way it is. See? If you continue to choose these ladies, then you will have an interesting pastime, but the family will not happen».


I thought a lot how to explain correctly that his lady's type is not suitable for family creation. I even bought a Barbie doll for cases like that and show it to men when I have not more arguments. Recently a Dutchman, a good guy, chose himself exclusively Barbie type for meetings. One of his former ladies is working in China at a striptize club. They met, but she was not oriented toward family values at all, although he liked her very much. The experience was bad. Then he came again and I, seeing that the situation was repeating, recommended him to meet a lady whom he didn't like very much, and when he met her in person, it turned into love at first sight. Now they are a happy family and they got birth a son on May 2018.


Recently another male client used our services. I selected him a bride, they really liked each other at a meeting in Kiev and he went to her in Baturin. They did not have a relationship. We figured out why it happened and choose other profiles. He insisted on meeting with a lady whom he chose at my base himself, agreeing that he is completely responsible for the meeting And now they are dating, he extended his stay in Kiev for a month for sake their relationship and even plans to move to Kiev.


There are very different couples. Often a man says that he would not have found such a wonderful wife himself. It happens that they chose each other at first by reason, and then switched on the heart. It happens that they met, and fell in love at the first meeting… The most pleasant and surprising thing is to be involved in arranging such a meeting.


There are so many different options for the events development in the relationship, and when I talk to men, I talk about possible scenarios. All of them are good, but true Love should be earned))


Often when looking at brides it can be seen which one will soon get married. This is felt not only by her words, behavior, communication manner, but also by her expectations from a future partner. She may not even have time to change amateur photo to professional one and her romantic happiness finds her. But, unfortunately, it is not often happens to see such brides.


There are brides who will get married, but not this year, but maybe in a couple of years. I can not say that I firmly believe in esotericism, I just observe how everything happens: sometimes it feels that a lady "begged God" to have the groom. And he looks like her, he is very cool. This does not mean that they will have an ideal relationship. But the couple will live in love and harmony, taking both joy and sorrow. In relationships, we can call it "challenges": this is when "unpleasant, but I do not run from it, but I know how to cope with it." And usually it works, when the lady shifts the "crown of responsibility" on his head.
To be continued…
More interesting interviews with experts – here
Any questions?
Ask our specialists