How to write the right letter. From "hello" to "bye"
19.11.2018 12:00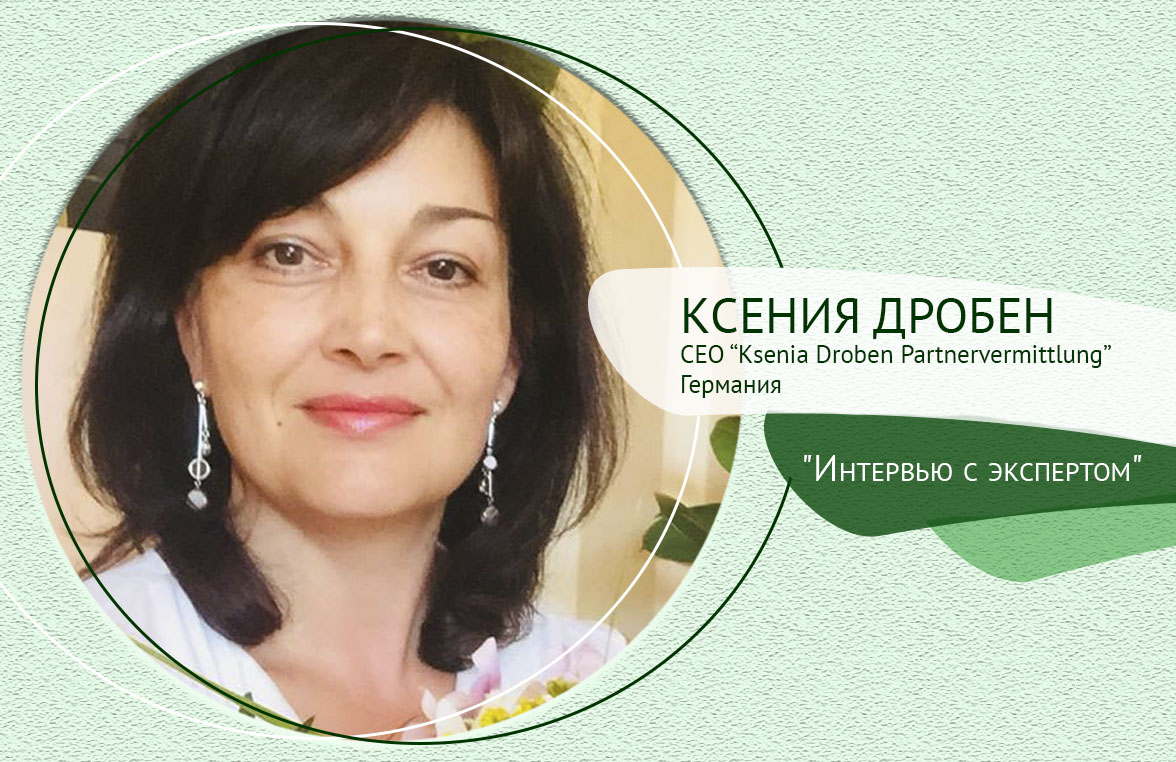 Our expert is Ksenia Droben, director of the international dating and marriage agency Ksenia Droben Partnervermittlung Germany. She is the author of the articles, professional blogger, the author of "How to marry a foreigner" book, the author and the coach of "School of Brides" course and creator of various training seminars for foreign men.
Let's talk about letters writing. From the very beginning. The title of the first letter. What should it be like?
Of course, provocative one. But I will say that for us, provocation is not sex. There are a lot of provocations but it must be based on man's type. For example, if he writes that he plays golf, then: "Tomorrow we meet on the golf course". He thinks: why, how, what the course? And opens the letter. And then there can be something else, for example, about your attitude to golf. And for example, this type: "Let me undress for you tonight" – NO!!!We are not working this way! Only a provocation, based on what the man says about himself. After all, the main thing, the first 2-3 letters are important. Further ones are already easier. For example, if a lady dances on a pylon, she can write: "What do you think about dancing on a pylon?" And then she can say that this is her hobby. We start from the information in the profile.
What is your attitude to compliments for men about their appearance. Does it work well? Or is it better not to talk about it?
I think that in fact a man can not be won without compliments) It turns out that those ladies who sit on the throne, and say: "praise me" they continue to sit on the throne for decades. A man chooses the woman who values him. Even if they are not familiar, it's good to start a communicating using a compliment: «I see how strong your arms are, shoulders, I like your cloth style …»
And if a man is aged? Does it work? Or you need to switch to compliments about success, for example?
Any "boy" no matter how old he is wants to hear that he is the best. They are sure that they are the best … this is the problem. You know, there is such a picture when he is a fat man and sees himself in a mirror as if he is a handsome, and a lady, on the contrary, is beautiful but sees herself as fat, vile, terrible… That means hat boys are sure that they are the best. And, if a woman tells him about this, she will just confirm what he already knows about himself. It's not true, but it works.
 
After all the woman thinks so as well, when receiving compliments: «Maybe you are beautiful, but I'll open my database and there are the same blondes, of the same age, having the same parameters, weight … a lot. Therefore, if you do not answer him, he will also open the site, select 10 more exactly the same blondes, and maybe even with better education, knowledge of languages …
Therefore, there are only one option, if he paid attention to you, then you need to think of how to interest him. And if he stopped writing after 2-3 letters, then you didn't touch him. So when you deal with the other man think, what was wrong and try to fix it.

If the photo place of the man's profile is empty. Should I talk about appearance or ask for a photo? And if there are complexes
It can be not complexes and shying. It may be a fairly successful man who does not want his photos be somewhere. Therefore, the truth is different.And I have marriages when in the beginning there was no photo, but it turned out that it was handsome man, successful, who preferred to present himself in personal correspondence for a lady who was interested in him. But it is also necessary to understand that if a man does not have a photo and he does not send it, then the real lady will not correspond with him for sure. Only a translator. Therefore, a translator must collect as much as he can information, including a photo, so that it could be presented to lady. No onel woman will correspond with a gentleman without a photo. It's even ridiculous to hope.

The first letter from a lady. What the letter has to be about?

Usually when I give a presentation about the first letter, I say that the letter should not be big, but it should contain some surprisingly funny detail. Example: I wrote a presentation for a lady and saw a white Mercedes on the street.And I wrote: I'm not looking for a prince on a white Mercedes. It is clear that this was like a prince on a white horse. Men reaction was very interesting. Because almost all the men realized that I'm not looking for a rich man, but I'm looking for a soul mate (that's exactly what I wanted) But the answers were very different) A man wrote: "I do not have a Mercedes, I have a Porsche" Another one: "You know, I like you very much, but I have a white Mercedes. What should I do now? Sell?" That is one phrase makes it possible to continue the correspondence.
 
It should be something that makes it easy for a man to say something in response. Not just a cold fact, but an open situation, so that a man could comment. There was also a cool example with another bride. I tried to find out something interesting about her. I say: "Well, at least something!". Maybe you collect elephants … She says: "I do not collect them, but it would be fun". And I wrote in a letter: that I work so much that I plan to collect elephants, but I have no time even for that(
 
(Feedback was interesting.) The first gentleman gave her a plush elephant saying: "Let it be the first in your collection". In order to interest a man, do not illustrate cleverness, it's my point of view. We need a translator to talk to the lady and get a key phrase from a lady that is unique. Not like these standard presentations: I was born, I live, I love … but some impression about the trip, the best coffee in the world, a dream …
 
I remember when I wrote: "I went on a surf, next I plan diving and motorcycling.". They do wrote me!!! I'll go down to diving with you, and I'll go motorcycling… Someone was wondering why I can not surf. I didn't say anything special… But I created a situation when a man could offer me his help. And, if a lady writes: "I want to go around the world", a man will start counting his money. And when she says: "You know, I so would like to ride a motorcycle.. Imagine, I'm taking off my helmet, and my hair is going down …» That is not a motorcycle for the sake of a motorcycle, but for the sake of beautifully taking off the helmet.
 
At this point, the man have fun about it. Ride a motorcycle to take off a helmet))) It's funny and he wants to answer something. I explain to my ladies that the correct correspondence is when a man opens a letter and it's funny. State of inner smile. That is if he laughs at every your expression then he is yours. And if he gets such a letter similar to 200 thousand other people write, then he will go further, looking for funny things

What shouldn't I wright about in a letter?

There should be nothing boring. Information where you graduated from, where, how many years worked, autobiography, children … it is not necessary, you may not write it, it is in the profile. This can be left for later. Negative information that I'm looking for a foreigner, because I feel bad, it is bad to live in my country, all Russian or Ukrainian are drunkards … etc. I earn a little … Or, if you talk about something negative then do it funny. But not like that: there is no life, everything is gone, the client left, everything is coming out)) Without a bad previous experience.
 
There were cases when the ladies in the first letter wrote that the husband died because of alcoholism, or that the former husband does not deal with the child at all. There was a lady who wrote that she is a allergic to raspberries. When I tried to say that you should not start with sores, she said, why, it's the truth. I said that, of course, you can send it as long as you want, but you see that nobody replies to you after this first letter. Maybe this is the moment to change something.
 
Financial complaints, sores, talking about some career achievements, that I'm cool… I advise even those who have their own business, not to tell it at the beginning. Don't do that. Because if a woman first starts talking about it … before saying "Hello", like, "I have my own business".Maybe there is not a business, but a little store, selling threads. But the man is thinking: if she in the very beginning underlines her financial success in the first letter, then what will happen next. Whether can I carry such happiness.So, it's better something easier… about elephants), some pampering) Men should not think: "And what can I give her? Can I give her more than I can? Am I ready? Probably, he is afraid that it doesn't coincide what she wants with what he is ready to give or offer her. And there is an emotional fear that it is better not to start.

Career. Is it necessary to talk about the profession? Will this be a signal for a man that she is not ready to leave her country for his sake?

I usually say this way: If you can take your profession with you and work remotely, talk about it and underline that I can do it anywhere in the world. She will give an understanding that she will develop and be busy with something, and, frankly speaking, will not sit blowing his mind. On the other hand, if this profession is not applicable in his country, then I advise saying that I like my profession, but to give a hope to a man, say that "I understand that if I move to another country, I will learn something new and interesting ".
What do you think about talking of men country cultural values, traditions … ? Will it help to get close?

All it depends on how the lady will talk about it. If she says she knows the language and she likes the cultural values of the country, then this is good, this is a relief, because he understands that she had been there already and she will not be frightened by this.But if the lady will focus on the financial stability of the country, calmness, then definitely not.If I read books, I know the authors, I had been to this city, I walked there …if it's within cultural level – yes. If "I love Germany, because there are free schools ", then no

How big a letter should be?

I usually say that a woman answer should be equal to a man's letter. If he wrote a long letter it means he wants to receive a long answer on it. If this is the first letter, then I would say that half the page of printed A4 text is enough. Because the first letter should be funny. And a lot of laughing also is not necessary. In fact, It should be for one phrase. Some sites have different requirements for letters, but I think there should be something short and interesting. And then look at the profile, analyse the photo)

To be continued…

More interesting interviews with experts – here
Any questions?
Ask our specialists