THE EXTENSION FOR MESSAGES ON THE BRIDGE-OF-LOVE.COM SITE FROM CHATOS
11.04.2017 16:38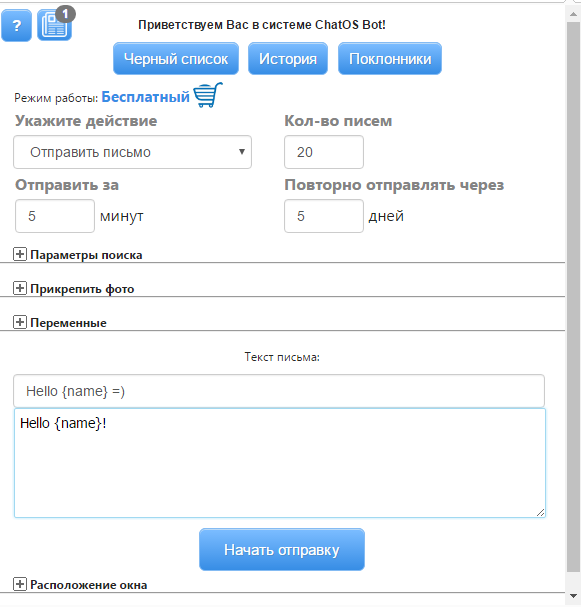 THE EXTENSION FOR MESSAGES ON THE BRIDGE-OF-LOVE.COM SITE FROM CHATOS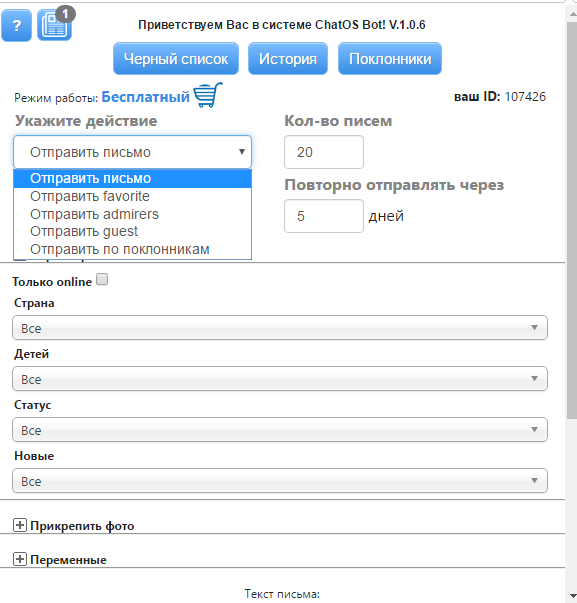 With a help of our extension you can make a mail-out of:
Favourites;
Admirers;
Guest;
Admires.
The anti-spam system is foreseen to prevent a spam from your profile. Three mechanisms are embedded in the extension to help you with: 1. The line "Resend via". Set the time for men to receive your letters from the mail-out. 2. The tool "Admires". "Admirers" is a list of men you chat. To add a man to the list of admirers just click on his profile photo or set an automatic adding of men to "Admirers" indicating a number of incoming letters from men. Also exclude them from a general mail-out of your "Admirers".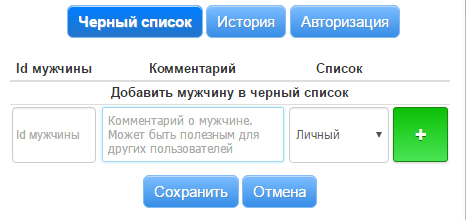 3. A tool "Blacklist". Add to a "Blacklist" men with whom you want to limit chatting and leave a comment for yourself to remember why you added him. To transfer this information about these men to your agency indicate type "Total".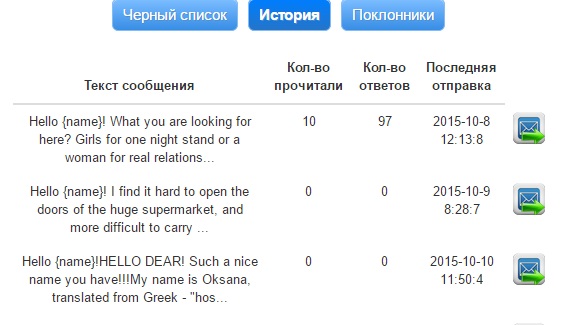 4. A tool "History" will enable to see when the letter was sent, the full text, how many men reviewed it and how many replies were from him. If you want to resend it just click on it. Girls can create gallery with photos on the site, it is embedded in the extension to attach a photo to a letter and a girl will always be able to use them.

Your letter will be special if you use inside variables of our system (welcome), (smile), (goodbye). Indicate variants of variables of system that will be randomly pasted in the text of letter. You can also add variables from a man's profile to your letter to show that you are interested in him. Use our extension for simultaneous work with several profiles or sites to place conveniently working windows. You will be able to see all your accounts at the same time; it will simplify a work for you and your computer. We hope you will like this extension. Have a nice chat.
Sincerely, the ChatOS team
THE EXTENSION FOR MESSAGES ON THE BRIDGE-OF-LOVE.COM SITE FROM CHATOS
Any questions?
Ask our specialists