Interaction with a male client. First interview. How to hold on an interview. What is important?
03.09.2018 12:00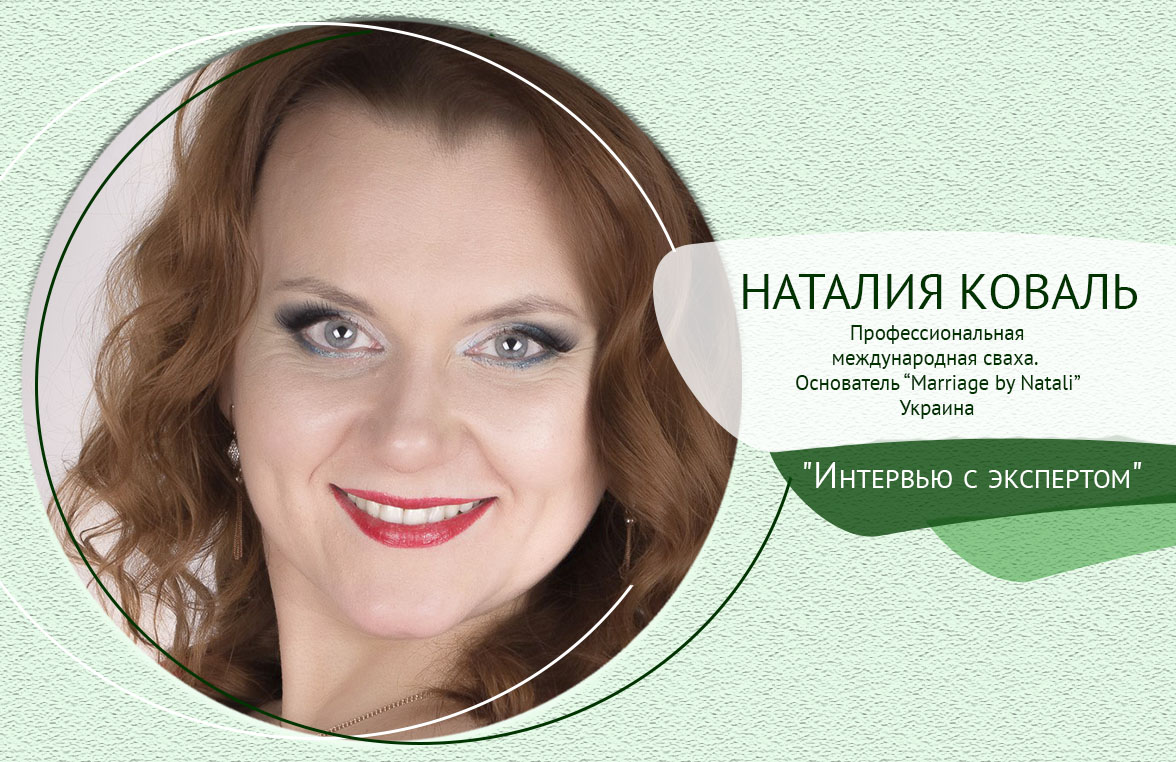 Our expert is Nataliya Koval. She is a professional International Matchmaker, founder and owner of the international matchmaking agency "Marriage By Natali" Her mission is uniting people from all over the world into happy families. Since 1997 She is matching Ukrainian women with men from the USA, Canada, Europe, New Zealand, Australia… Our question: A man asked the agency to find his lady. Could you tell me how the agency helps the man step by step. Nataliya: Talking step-by-step, then the next step is I invite him to visit my individual consultation. This is a paid service. For me, his consent is an indicator that the man is serious in his search. I can say that even though I raised the cost of this service twice, the number of men has not decreased. The consultation is conducted online or in person. Most of these consultations are conducted online. To find a target male client in Kiev as well as worldwide is not easy. If 10 years ago they mostly came to Kiev and found agencies now everyone is online. When I started business in 2003, I found clients mainly through local advertising: advertising on the city map, flyer, etc. and men, "alive" and real, came to me) At that time I did not know all aspects of the business and how to use online resources effectively. Now, those men who come to Ukraine and go to agencies are not exactly our kind of men. They already have their plan and are trying to implement it when come here. And, if this plan due to, for example, AnastasiaDate, other PPL sites, or TINDER did not take place, they are looking for reliable agencies. But they are kind of already "wounded" and do not accept the idea of paying for a matchmaker consulting. Unfortunately, as for them paying any money is automatically the fraud((( And those men who still sit at their computers, gather information, think well about their arrival this is a much better target audience.They are of different ages, different social status, but they are united by the desire to rationally look for a couple and win this race. This kind of men understand the value of my and their time and the meaning of my consultation and are willing to pay for services. Timing of my consultation is 75 minutes, but in fact it lasts at least 2 hours. Within the framework of this meeting I communicate with men on very different topics. Before the consultation, the man fills in a very detailed questionnaire. This is necessary for understanding the client features and during the online meeting to pay maximum attention to the man personality and his search criteria.I want to know his social status, occupation, hobbies. This will greatly affect what kind of brides I will offer for him. His education level , his emotional involvement in life events, the seriousness of intentions, what he focuses on, his relationship with his family, parents … I always ask questions about the family: how long his parents were married, what environment he grew up in, what his brothers-sisters achieved. If his parents divorced then how old was he at that time. Because, from the psychological point of view, this shows what the person life will be like. And, for example, if parents divorced when a child was 12-13 years old then this is a huge crisis in his life that will influence his personal relationship in future if he does not work on it. In our space (Ukraine) such a crisis in childhood is practically a "the crown of celibacy" for a man. But foreigners, fortunately, better overcome it. And I can see that they work on themselves, transform themselves, trying to build families and many of them are successful in it. If his parents are alive than I take an interest what is his relationship with them. Where are his parents: in a nursing home or they live with him. How often he spends his time with them. I ask him questions about deep family values. What he believes in and what is his life. If he was married then I ask him how he got divorced. Whether he supports his children and whether he takes part is in their upbringing, etc. If he wasn't married then why? Had he long-term relationships and how long they were. If he has experience of a long-term relationship with a woman for more than 3 years then there are some hope to find for him his couple. I figure out male client personality, his values and objectives. Not that he says "I want such a bride..", but what he really needs. And then I understand whether I have enough brides for him and what kind of services I can offer him.At the end of our conversation, I show him profiles of brides which I could introduce him. But sometimes a man can get a refusal in getting my services. I understand completely that there is a socially accepted point of view and socially accepted common sense in finding a partner and wishes of brides what kind of grooms they would like to be offered… But, if I only follow these parameters this would not work for everyone, because the life experience that a person has is very important for him. I even ask some of suitors to show their mothers' photos, photos of their ex-wives or former women in order to catch their "type" of the bride. If I see that many brides are suitable for him, and he is an interesting guy himself, and he likes a lot of ladies, then the goal is to narrow down the search criteria and convert the number of profiles into quality. If a man does not like a lot of them then would be better to send him for more meetings. We do very individual work with each man: how many profiles I will offer him and how many ladies he will meet in person, whether he will choose the bride's profiles himself or listen to my recommendations, what kind of personal consultations he needs. It does not work here, when you introduce him to a lady and say him that she is right for you and marry her urgently. It is necessary that, first of all, he also liked her and he wanted "to conquer the whole world" for her. The boy from his childhood remembers the way his mother loves him, hugs, gives him warmth and affection and it becomes an example of his future relationship … He has been looking for a partner like his mother physiognomically, emotionally, energetically all his life… This is his love code. If a man says: "I want to choose profiles of brides myself!". It's ok. He can do it. But I explain that he chooses such a lady for the meeting "at his own risk»… The more I work, the more I realise that there is no universal business model for matching a pair. I've been looking for this model for a long time. I read a lot about this, talked with colleagues, asked psychologists about it, analyzed a lot, but I realized that each client needs to be individually approached. When I talk to a man I listen to his expectations then I understand whom he needs to be with and choose the appropriate brides for him. Of course, the most beautiful first:) I choose beautiful brides for him which will be an ordeal for him. I choose beautiful ones which will be interested in him. And beautiful ones, which, perhaps, will reject him. A man trusts matchmaker when, he sees by his own mistakes that there everything is exactly the way as the matchmaker says. He needs to get this experience. At the end of our talking I choose ladies that in my opinion are the most suitable for him because of their inner world and his requirements and then I hope that he will like to meet one of them. If a man is totally disagree to meet any lady, then it is better to give him time to get experience communicating with other ladies and maybe later he will be readier to get my advice. It makes sense introducing the man to requested brides at first and at the same time warning him which ladies he will be able to communicate easily and cheerfully with, and which are difficult and abstruse with, which ladies has the potential only for short-term relations, family and children. If a man consciously accepts this, I support him. Therefore, I have a trusting relationship with clients. To be continued…
More interesting interviews with experts – here
Any questions?
Ask our specialists