About the boundaries of partnership
15.04.2019 12:05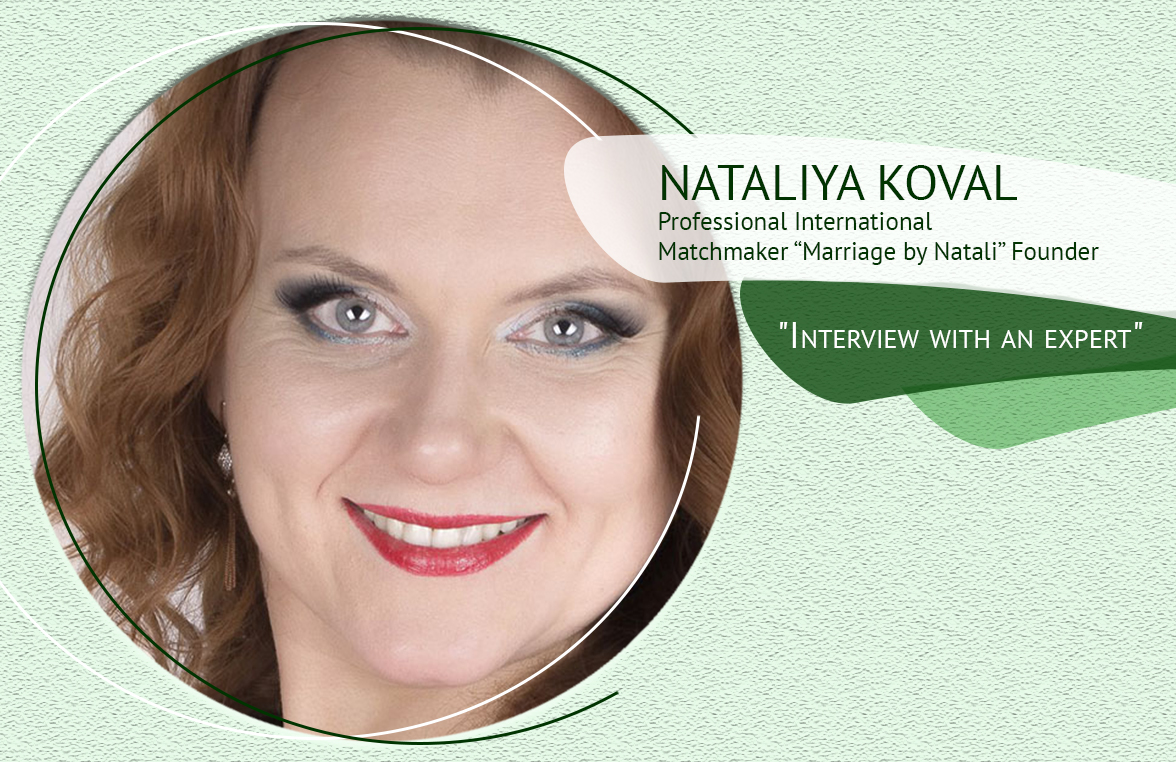 Our expert is Nataliya Koval. She is a professional International Matchmaker, Founder and Owner of the International Matchmaking Agency Marriage By Natali
How do you choose partners? What criteria do you have? And can you tell about the cooperation process, please. How does it work?.
Personal conversation. Common values and work precess understanding. Common goals. There are two types of partners. The first type – abroad partners (France, Germany, Israel, Austria). At the beginning of cooperation personal contact is first of all. Realising that we understand and trust each other. Secondly – the principles of the partner agency's work. We determine what we can offer to partners and what is our female clients benefit. We are interested in having suitors.And if partners are abroad, they are interested in meeting brides. Therefore, we deciding with them what is the optimal sum for mutual services.They work with their male clients providing us male clients already prepared for meeting brides, and are responsible for the seriousness of their clients' intentions. We even had male clients from partners who invited a woman to meet them in their country. No problem. If the agency is officially registered in Europe (Switzerland, Austria, Germany, France …), then there are no questions to their reputation and seriousness. To register a dating agency in Europe, it is necessary to undergo a serious verification process with many requirements and conditions. With these agencies we approve convenient tariffs for services. For us it is beneficial, because our brides want to meet with proven serious suitors, and these agencies send us such suitors. Then we provide quality services to these men in our agency. Our task does not change – a man has to meet his couple. I am also a partner for Ukrainian dating agencies, because I have male clients and they have brides. For such cases, when an interesting male client who has studied your entire base of ladies comes but he needs some other, special bride and you have the resources to help him. The partnership and the Ukrainian Matchmakers Alliance are the best solution.
Tell us about the young, but already known Ukrainian Matchmakers Alliance. How was the idea of foundation appeared ? What are the goals of Alliance?
The idea of creating the Ukrainian Matchmakers Alliance appeared in 2008. At that time, I was almost at the stage when I wanted to close or transform my business. And I went to an international conference of matchmakers in America. I have realized that this is a whole professional direction, a full-fledged profession in the world, not like in Ukraine… I have also realized that I needed new knowledge, a new work system. And since 2008 my rapid professional growth began. Before that, from 2003 to 2008, I did "what I could and how I could." And after the conference in New York, I realized that what I was doing before really made good sense. I compared the clients profiles that I had, and it turned out that they were at the same level as I was taught at International Matchmaking Institute. Listening about the different work styles of colleagues, I saw the prospect of development for myself. I thought that it would be great to gather professionals together. In order to grow together to have a real business structure. For joint growth and prosperity. And again, you have a client, but there is no bride for him. There is Alliance for these cases. You open the joint database and choose a bride for the suitor. It was all accumulated, but there was no good emotional, uniting impulse for this. And when CHATOS called me to be a speaker at the first conference of dating agencies in Chernivtsi and I studied the topics of my colleagues, I realized that I can only speak about the professionals union in our field. We had to think over how to do it professionally and for the benefit of all. And right there, at the conference, a group of those who got interested in my idea and wanted to support it was created. When I came back I discussed the issue with Alex Pinto. This is my colleague from Poltava. I told him about my plans and he answered that he planned such thing as well. And that he even knows what it should be like: the structure, rules, the site idea, everything… "I wanted to build it and you already gathered people". So we joined our powers. I wouldn't organize Alliance by my own. I would be lack of "grounded" and practical knowledge. Therefore, Alex and I formed a tandem.
Can new agencies join the Alliance? Whether this is a gated community?
The first step is to collect agencies that are already interested in joint cooperation, which we gathered at the first CHATOS conference and at the last I-date conference. That is those ones which we know personally and to launch a full-fledged work. Next we are opened to other agencies, but these agencies must meet certain criteria. And the main thing of these criteria is the focusing on creating a family. Alex and I as founders will interact with those agencies figuring out if they can maintain common reputation and we will decide about their including in Alliance. If the agency is ready for good work, if they have their own database (more than 30 brides profiles), if there are no complaints about their activities on the Internet, then we most likely will take such an agency to the Alliance. It can be a start-up agency that wants to work honestly, but does not know how, wants to learn, grow, cooperate. We will create special courses for matchmakers… But this is already the next step.
Geographically, are you opened to cooperation with all men or there is a certain list of countries which you work and do not work with?
I work with countries, focusing on brides requests. First of all, I work with European countries, the USA, Canada, Australia, New Zealand. Mexico, for example, it is difficult: not all Mexicans have money to have a family with a foreigner. Rarely, parental family of a Mexican with a good income will release to Ukraine , and then take a foreign woman. Men from Latin America are the exception. Basically, I do not work with Latin American men because they are very difficult to understand. Although, if the male client has the right family values, then we can try. European countries, the United States, Canada, Australia, New Zealand are priority countries in our work, because our women prefer, as a rule, white men with European appearance. Lebanese, Saudi Arabia, India, China ask us to cooperate with them… Their low social status and level of education, which are much lower than the level of brides I represent are the main reason why they get my refusal My selection begins at the stage of the first message to me. If a man texts to me in Viber: – "Hello! How do you?". I block such people immediately. If he texts: – "Hello! My name is …. I want to be your client. What should I do to be your client? ", then I answer him Personally I have a prejudice against male clients from Muslim countries. Muslim men usually challenge my work rules and I have to give up providing them my services. Although I have a happy couple in Dubai, which already grows two children, and the lady converted to Islam, although initially was strongly against it. There is a couple with a child in Egypt who lives a very secular life.
Do you work with Ukrainian men?
I will gladly help Ukrainians find brides!I even set special national prices for my services. But I already have 1 Ukrainian male client, whom I can work successfully with. All other candidates went away, not wanting to compete with foreigners. Ukrainians are the most difficult category. They have complicated emotional condition that they don't want to work with, and their self-esteem is very low, or too high. A very good guy with average height came to the agency. He was so worried because of his height that it was impossible to talk to him. He eventually said: – "I need a sweet lady of small stature, but I see that you do not have them: quiet, calm, which are agree with everything". Ladies who go to an international dating agency and want a foreign husband are usually more ambitious. They have higher expectations from men than other women have. Brides do not always find the balance between their expectations so they turn to the matchmaker for help. To find a simple guy for a relationship is not a problem for them, they are looking for a guy more ambitious and with a desire to make plans and ambitions into life. I often see Ukrainian men who are offended by this fact, instead of getting up from the couch, to work more and attract ladies by their stability. in most cases, a hardworking and honest Ukrainian, overcomes a foreigner in the fight for the bride. I can see it according to the statistics of the weddings of my clients. Our guys need only to raise their self confidence! To be continued…
More interesting interviews with experts – here
Any questions?
Ask our specialists