Let's continue about Letters: "What is to be written about" and "How to create"
22.01.2019 13:00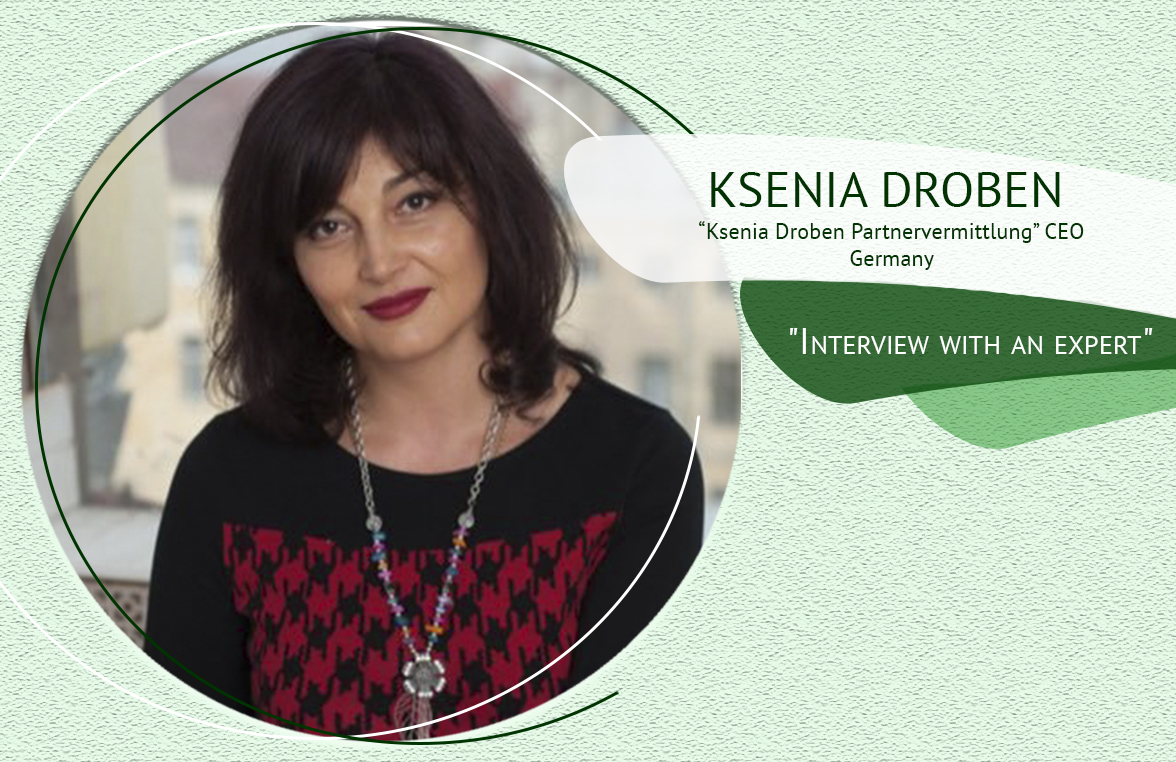 Our expert is Ksenia Droben, director of the international dating agency "Ksenia Droben Partnervermittlung" Germany. She is the author of the articles, professional blogger, the author of the teach yourself book "How to marry a foreigner", the author and coach of the "School of Brides" course and various training seminars for foreign men.
Is it a good idea writing about children in the first letter?
I wouldn't recommend to talk about children in the first letter. People are very picky while reading the first letter.
But later, when I have met an englishman the conversation turned into talking about child's birthday and I am busy.
-How old is the child?
– Seven, I say
– My son is also 7 years old – he says.
– It's a cool age. They think they are grown up actually being children – I wrote him. And it made us closer
When I was holding a lot of trainings with employees, I told them to watch "Sex and the City". If you watch properly, there are topics in each series that you can discuss with a gentleman. Watch, read "Cosmopolitan", read men's magazines if you want. communication topics can always be found. This is still communication skills
Search by age: do you have boundaries, who can a girl write to?
We are based on what the bride wants. If she wants a man younger than 35, then she will get it. Only real preferences of ladies.Certainly, if an 18-year-old lady writes letters to a 60-year-old man, then clearly this is a fake, it has consequences. Cavalier complains, the lady can find it out . Then you need to get a confirmation video… And the time сonsumption to this problem will be less profitable then received money. That is better to avoid it than spend huge time thinking up such thing and then explaining to the lady why there were a such mistake that they were correspondence with an old man on her behalf.
If a lady is 30 years old, then her boyfriend is 40-45 years old. Younger is very rarely. Although, by the way, I had a case, he was 27 years old and she was 31. He lives in Dubai and she lives in Dubai, but the pair did not remain together, she refused him, although he was very handsome. She apologized, but said that he is not her type of men. And usually, if women want a younger ones, there is no chance.
How do you train a translator?
As I said before, I have already a good organized office, the staff has not changed for three years already. Of course, there were people who were coming to us and who were going away. Because the work requires a certain psychotype to work. I had a large office, 65 employees worked when flourishing the correspondence. They came, And I said: "Now we will have a training on letters . We start … ", then the training on chats… So, they are sitting in the office all together. There is a senior administrator.
We always said: do you not know something – ask, do not reinvent the wheel. So, only feeling support, only in such way… My girls really treat work as a second family. They meet, visit each other on weekends… Those people who have been working for 15 years get everybody together. We explain the technical parts and say "ask questions". If a translator does not ask questions, that's bad.
It turns out that we stimulate our employees to communicate, learn something. If he just sits staring at the screen, it's not good. We already have a good organized team and we need our psychotype)
Do your administrators or senior translators check letters?
No. I've heard about that. But my opinion is if you have trained a translator then he should do everything himself. If not, you did not trained him well. Imagine if a single employee will reread hundreds of letters a day
And when we will live ? I think it's a waste of time and money. I think it's better to leave 100, but 1 will stay, which will work without control.
What is the greatest difficulty of translator's work?
Make female clients to give feedback, adequate responses in time. And, having an urgent situation don't wait a woman being in touch. We remove such ladies. For us, this is a big risk.
Therefore, the most difficult thing to build a reasonable collaboration when a translator and a female client are in one process, she participates. And not the way it happens sometimes she sits and receives a percentage from the profile. We did not pay our clients and would not pay.
Letters, basically, are not popular way of communication for dating agencies. They are working with chats. Why? What's the problem?
Men which are looking for real relationship they'd rather use letters and couple chats. Because, we mean adult man who knows what he wants. He has not time to sit chatting, because he is busy, he has job, friends, social life, movie ets. He can spend 15-20 minutes to take a look at her, but he can't spend hours on it.
If cavalier spends hours for it… he will spend years. Therefore it depends on person's objectives. If a goal is just making money then they will chat. If a goal is to meet somebody then it seems to me that men will write some number of letters and then pack their things and come
To be continued…
More interesting interviews with experts – here
Any questions?
Ask our specialists