MISSED CHATS FUNCTIONALITY
17.11.2021 18:28
"Missed chats" functionality solves requests:
• How to find out about missed-unanswered chats?
• How not to lose attention from interested men who are ready to communicate
• How to improve the result, using the potential in the form of precious men who are disposed to communication.
---
HOW IT WORKS
---
The ChatOS system monitors information on profiles on the agency's admin panel on the website and informs if there was a missed chat for any profile (Missed invite)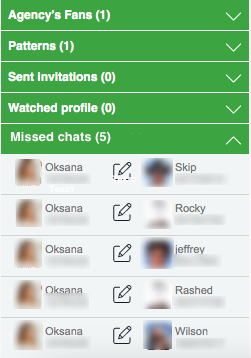 The data on the presence of missed chats is checked by the system every 30 minutes.
Any missed chats (Missed invites) both with penalties and with zero transactions) will be displayed in the "Missed chats" list:
➔ for all profiles from your "Ladies" section in the extension with the active functionality;
➔ with men who are online on the site and who you can write to right now;
➔ unanswered chats for the last two calendar days, in order to be able to repeatedly process interested men, but at the same time, not to use already irrelevant information on the profile.
If you watch a missed chat, click on the line, open the Mini Chat and write an interesting invitation to the man. It will help them to want to communicate again.
If the man is not immediately ready to forgive you, periodically persistently process the list of the "missed chats" section by sending messages.
There is another life hack. By opening MiniMail with such a man, you can quickly send him a letter
---
HOW TO ACTIVATE MISSED CHATS
---
To make the "Missed chats" functionality available for the lady's profile, check the box next to "Show missed chats" in the settings section on the extension's main page and click Save

For the rest of the ladies, do the same, applying this setting for each selected profile.
After activating, the "Missed chats" functionality is considered active for the lady. It will remain active until the user unchecks the checkboxes described above and saves the new settings for the profile.
Also, when you try to launch the non-activated "Missed Chats" functionality, the system will offer you to enable it. Click on the corresponding button and "Missed chats" tool is active for the profile
Please note that the "Missed Chats" functionality is available to all profiles from ChatOS Personal Accounts that have an admin panel connected and financial synchronization is active (financial statistics)
There is an instruction on how to connect the admin panel
---
USING THE MISSED CHATS FEATURE
---
"Missed chats" is an additional functionality to the Multi-account extension. Its use is at the request of the user.
Details and pricing can be found here.
If you have any difficulties or questions, do not hesitate to ask the technical support service. We will be happy to help
Communicate effectively!
Any questions?
Ask our specialists