MISSED CHAT FUNCTIONALITY ACTIVATING
17.11.2021 18:40
"Missed chats" is additional functionality to the Multi-account extension for chats to track missed chats on profiles, the ability to return and re-attract interested men, compensate for the losses and multiply the results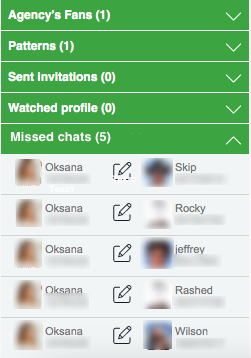 Details about the capabilities of the "Missed Chats" functionality, and how it helps in effective communication find out here
---
HOW TO START USING MISSED CHATS
---
Launch the Multi-account extension for chats, select the profile you need, check the box next to "Show missed chats" on the extension's main page in the settings section and click Save

After that the "Missed Chats" tool is available for the profile.
By switching the profiles to "Select a lady" and applying the setting to each profile, you activate the functionality for the required profiles of your Ladies section in Multi-account.
Also, when you try to launch the non-activated "Missed Chats" functionality on the chat page, the system will offer you to enable it. Confirm your desire to activate and "Missed chats" are enable for the profile
Please note that the "Missed Chats" functionality is available to all profiles from ChatOS Personal Accounts with connected admin panel and financial synchronization is active (financial statistics tool)
There is an instruction on how to connect the admin panel
---
FREE TO USE
---
– For new profiles in the ChatOS system. As a gift for starting to use ChatOS, the profile receives active functionality and 14 days free using of the "Missed chats" functionality (the day of use is the day when the profile actually has information about missed chats)
After 7 days, the ChatOS system will inform the Operator about the possibility to continue using the "Missed Chats" in a paid mode or disable the functionality.
---
PAID USE
---
Payment for using the functionality comes after the end of the free mode according to the profile.
Payment for the day according to the lady's profile is debited from the balance of the personal account at the moment when the system actually detected and showed the list of missed chats for the lady (information about the missed chat is shown as of the last 2 days for a specific profile)
If there are no missed chats on the profile, the funds are not debited even if the functionality is active in the extension's settings.
---
MISSED CHAT FUNCTIONALITY TARIFF
---
Tariff for "Missed chats" is $ 0.01 / 1 profile / 1 day of actual existence of the list of missed chats by the profile
For any help, please contact the ChatOS technical support specialists via online chat on the website or Telegram messenger.
Enjoy easy communication!
Any questions?
Ask our specialists